Norway's fjords - the immensely vast string of cliff-like, monstrously tall inlets, along with its enchanting mountain ranges, sweeping valleys and graceful waterfalls, make the famed Viking state the most beautiful country in the world… in my opinion.
Touring the western coastline of Norway is like listening to your all-time favourite albums on a looping playlist - the good stuff just never ends. The stunning terrain is mindbogglingly extensive, with fjords carving into most of the country's 2,500 mile western coastline.
In the summer of 2017, I was fortunate enough to tour part of that massive coastline, while delving into the scenic goodies further in-land. Part of the trip involved a road trip to Geiranger - probably the most popular (or certainly most marketed) fjords in Norway.
First though, a scrumptious starter course
Our lengthy drive to Geiranger took us along the Fv63 highway (from Lillehammer) and some stunning mountain roads, giving us a glimpse of what was to come. Despite some mild cloud cover, the views from inside our car were unspoiled, as Norway would in-turn proceed to spoil us before our main course further north:
With snow-topped caps in the height of summer and waterfalls tumbling down all around us, we were encapsulated in some dynamite rocky terrain.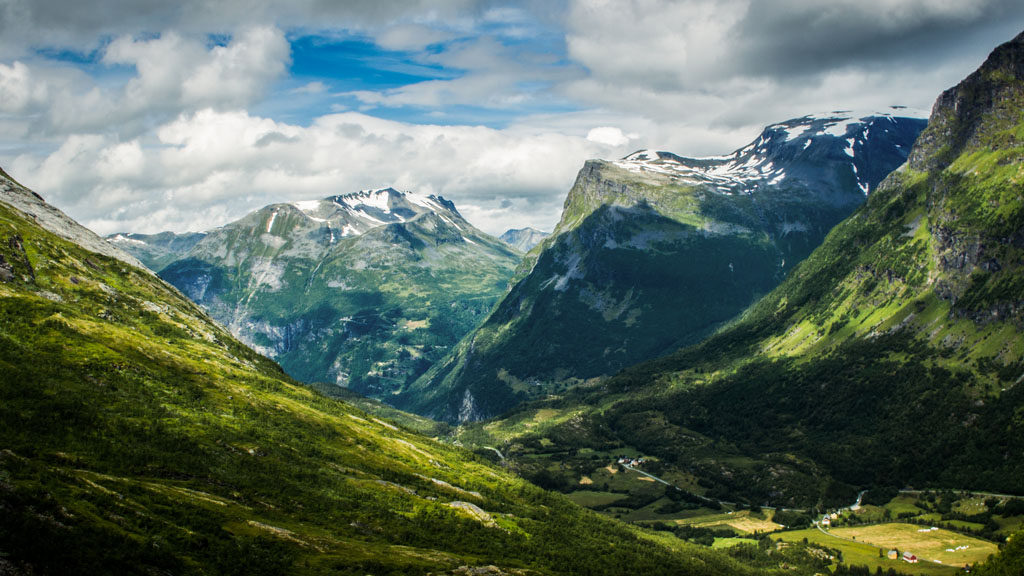 Summer is clearly in Norwegian disregard
I knew Norway was no Barbados (and nor should it ever be), but I wasn't prepared for just how cold it was in August.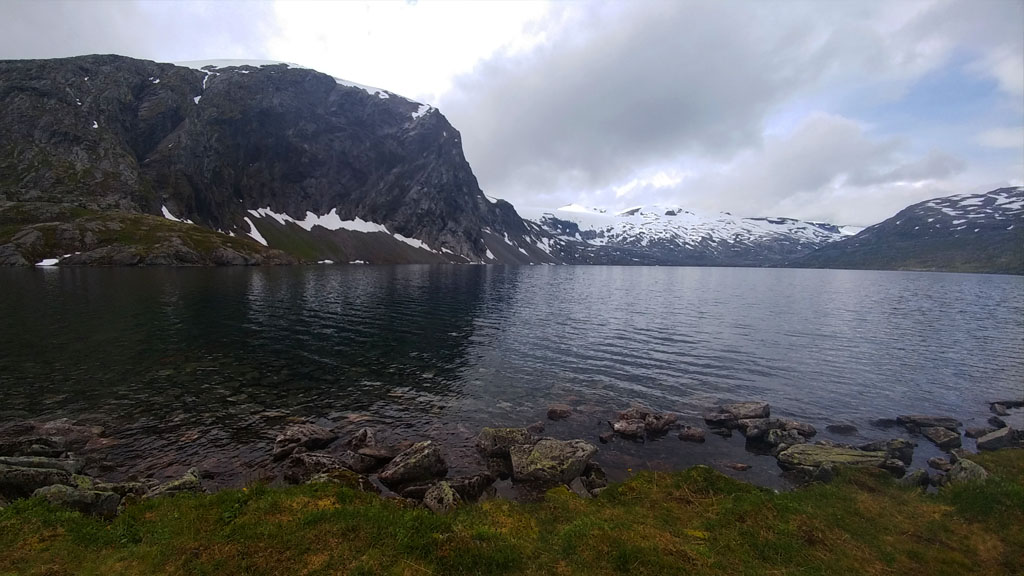 This is Djupvatnet Lake - a sizeable body of water that greeted us while nudging closer to Geiranger, and the picture should lend credence to the chilly conditions. I wore shorts on this day, and felt shivers.
With the cold weather on my mind, it wasn't the air temperature that caught my attention, but the sheer number of snow-topped mountains surrounding the lake. If it weren't for a few small untouched patches on the hillside ahead, you may have had trouble telling where the cloud stopped and the mountains began - they blended together so seamlessly.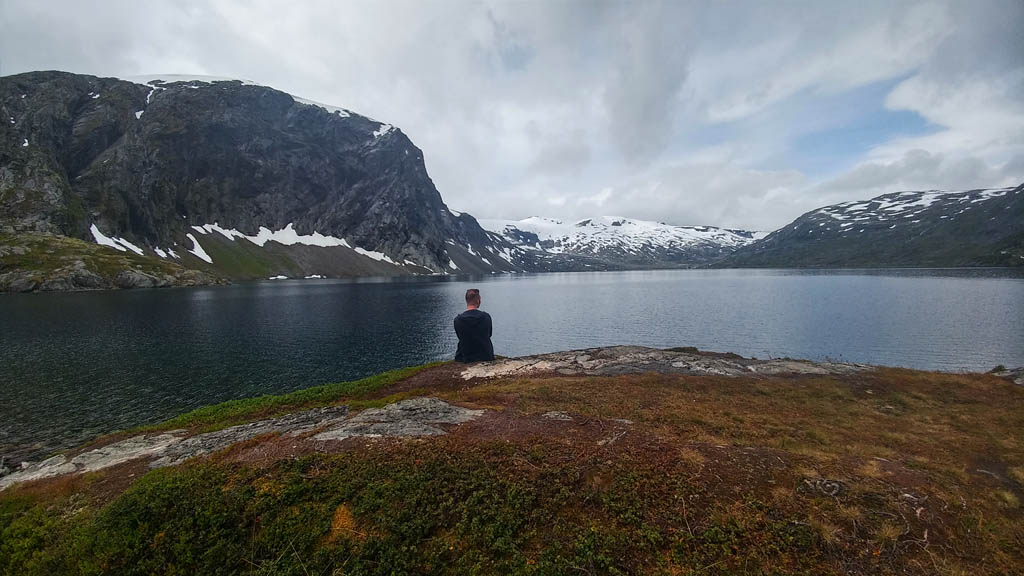 This was undoubtedly a pleasant surprise, despite shaky legs. Minus a trip or two to Snowdon in Wales, I hadn't ever seen snowy mountains before, and sure didn't expect any in the summer.
Geiranger, a monster among men
Five or so hours passed before I eventually reached Geiranger, and I was taken aback by just how much of a tourist zone it was. Like moths to a bonfire, the main dock was heaving almost to the point of claustrophobia. Okay, maybe not that extreme, but it was certainly difficult to soak in the views from water-level.
Geiranger is known, aside from its natural wonders, for the scenic cruises operated within the nearby fjords, which begin and terminate at this main dock. With several cruise ships littered around the fjord and obstructing view, we decided to take the high ground.
In search of top-notch views and a little peace and quiet, we went back on ourselves from the dock and up to a marked trail leading from the Westerås Restaurant, just behind the Geiranger fjord.
The trail weaved around tiny streams, sheds, huts, and a lot of sheep, who were apparently too camera shy to be seen in the above presentation. 30 minutes of muddy boot prints later and we reached the destination - a superb little spot overlooking the enormous fjord.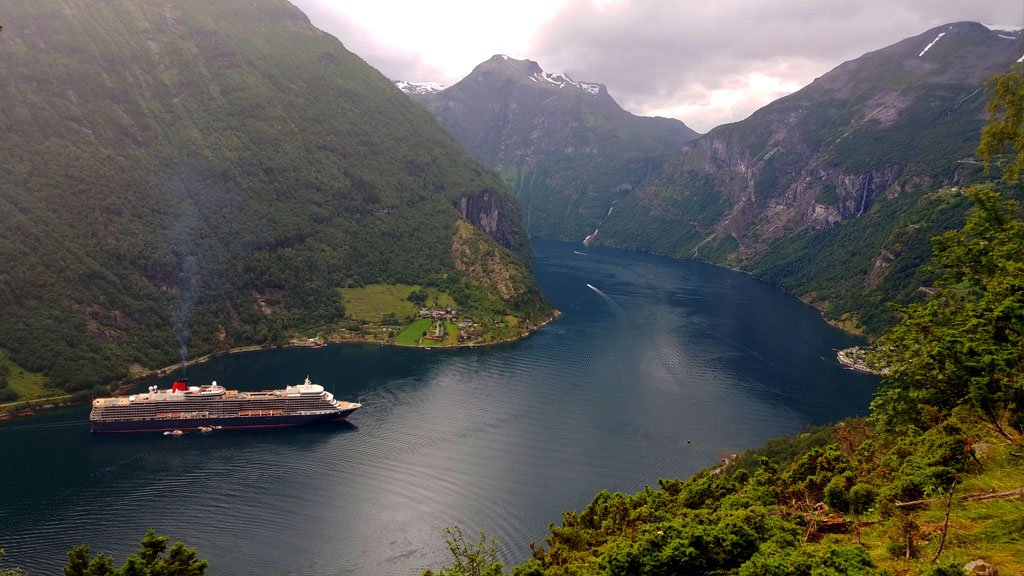 I couldn't be too ticked off with the cruise ships now, as the one featured in this picture (which itself was a behemoth of maritime tourist travel) perfectly encapsulates the sheer size of the landscape. Geiranger is gargantuan, almost indescribably huge, and I then understood why it had become a magnet for casual explorers.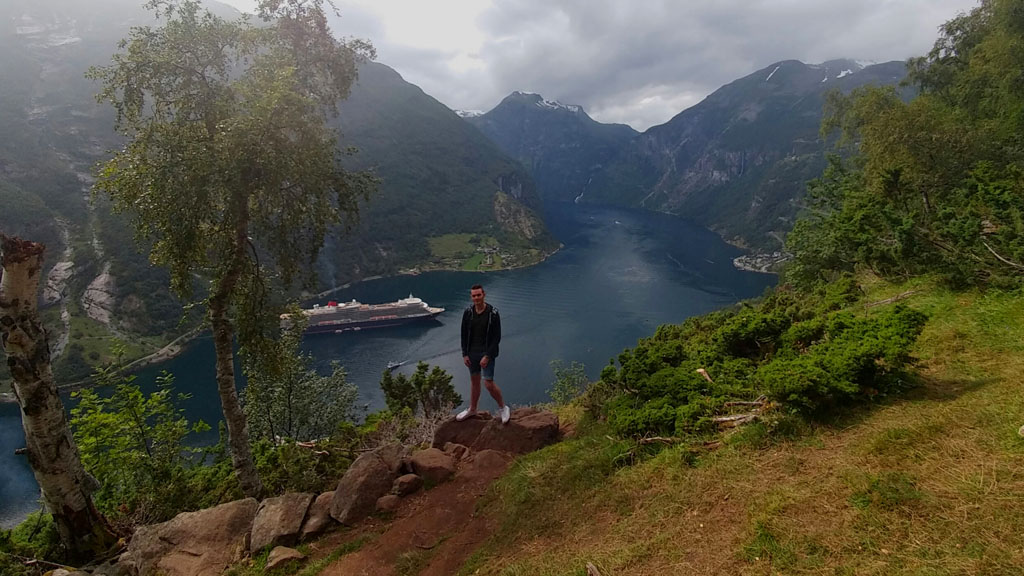 Overcast had put a damper on returning home with bright, colourful photos of the fjord, but no photo could ever do this majestic, quintessentially Norwegian land justice. I was incredibly happy to have experienced Geiranger, no matter the drive or the climate - it was an important and unforgettable bucket-list moment.
Comment via Facebook